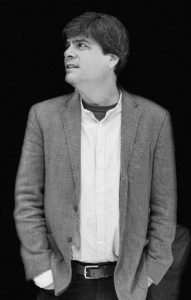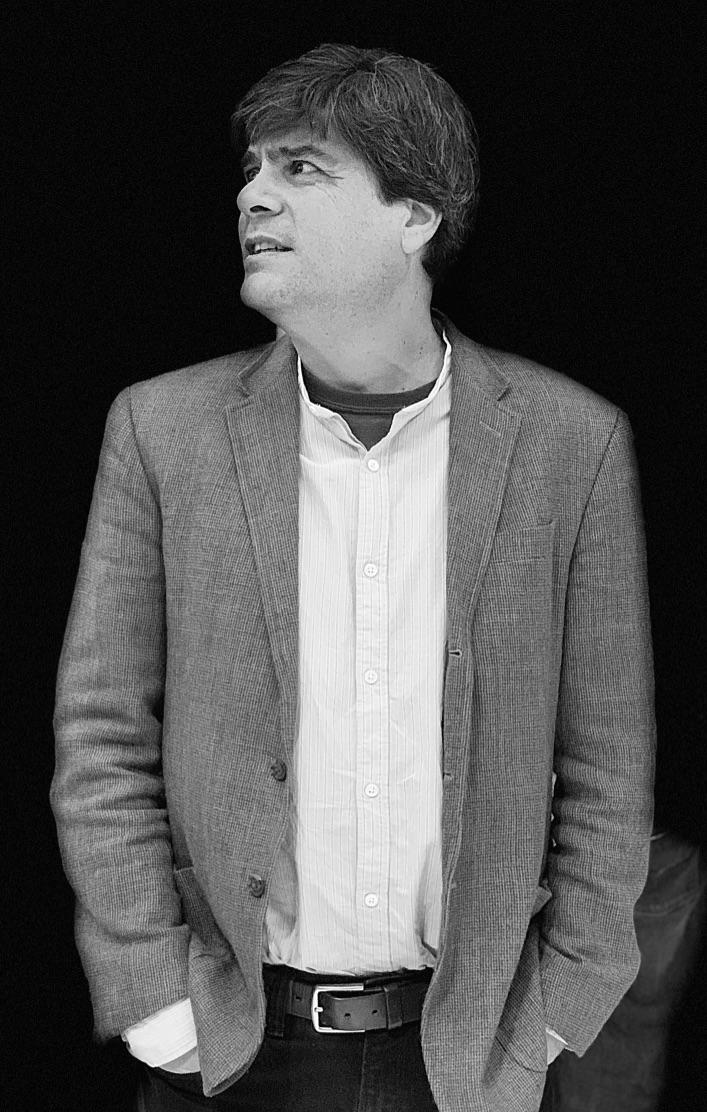 The music of Howard Frazin has been called "genuinely touching" by the Dallas Morning News and "clear in design…ingeniously scored…[with] an almost unbearable poignancy" by The Boston Globe. His works are commissioned and performed by many leading ensembles including A Far Cry, Pro Arte Chamber Orchestra of Boston, Boston Classical Orchestra, Claremont Trio, Florestan Recital Project, Lorelei Ensemble, Lydian String Quartet, and Triple Helix, and programmed at festivals including Tanglewood, Aspen, Banff, Rockport, Monadnock, Bowdoin, Kneisel Hall, and Yellow Barn. His works are published by Edition Peters and recorded on Ravello Records and MSR Classics.
Mr. Frazin's oratorio The Voice of Isaac—a retelling of the Abraham and Isaac story from Isaac's perspective—was commissioned by PALS Children's Chorus and premiered at Boston's Jordan Hall in 2003, and recently revised and performed by Coro Allegro at Sanders Theatre. Orchestral works include Of Echoes and Dreams premiered in 2018 by Pro Arte Chamber Orchestra; In the Forests of the Night, commissioned and premiered by the Boston Classical Orchestra, with subsequent performances by multiple orchestras across the United States, including Pro Arte in 2017. Other recent projects include a viola concerto for the Bach, Beethoven, and Brahms Society featuring internationally-renowned soloist Kim Kashkashian, a song cycle, Letting Go, in collaboration with the late U.S. Poet Laureate Donald Hall and premiered by baritone Keith Phares, and a string quartet for Boston's Arneis Quartet. Upcoming 2020 commissioned projects include a new piano sonata for Jonathan Bass to be premiered on the Walden Chamber Players concert series, and a new work for guitarist Eliot Fisk, violinist James Buswell, and cellist Carol Ou commissioned by Music for Peace.
Mr. Frazin is co-founder and artistic director of WordSong and has taught composition at the New England Conservatory and the Longy School of Music. He was a composition student of Dominick Argento.
Listen
Teaching
Press
---
Commissions
A Far Cry
Andover Chamber Players
Bach, Beethoven, and Brahms Society (2)
Boston Classical Orchestra (2)
Composers in Red Sneakers (2)
Nicholas Davies, clarinet
Sidney H. Drury
Florestan Recital Project
Fromm Foundation/Composers in Red Sneakers
Ching-Hsin Hsu for Lone Man Orchestra
JAMS
Alexander Levine for the Lydian String Quartet
Naomi Gurt Lind, voice
Longy School of Music (2)
Mockingbird Trio (2)
New England Philharmonic
PALS Children's Chorus
Sarah Pelletier, soprano
Powers Music School
Pro Arte Chamber Orchestra
Rhonda Rider, cello
Rivers School Conservatory (5)
Rockport Music
Roxbury Latin School
Sarasa Chamber Ensemble
Dr. Scholl Foundation (7)
Joan Smith (5)
Mark Smith and Andrew Mark, viola and cello
Tapestry
Triple Helix
Vento Chiaro
Scott Woolweaver, viola
WordSong (12)
World-wide Concurrent Premieres and Commissioning Fund, Inc.
Publications and Recordings
Collaborators
Voice
Kendra Colton, soprano
Ilana Davidson, soprano
Maria Jette, soprano
Barbara Ann Martin, soprano
Ann Moss, soprano
Sarah Pelletier, soprano
Michelle Trainor, soprano
Kristen Watson, soprano
Jayne West, soprano
Janna Baty, mezzo-soprano
D'Anna Fortunato, mezzo-soprano
Thea Lobo, mezzo-soprano
Krista River, mezzo-soprano
Elizabeth Anker, contralto
Emily Marvosh, contralto
Matthew Anderson, tenor
Charles Blandy, tenor
William Hite, tenor
Aaron Engebreth, baritone
Robert Honeysucker, baritone
David Kravitz, baritone
Frank Kelley, tenor
Keith Phares, baritone
Sumner Thompson, baritone
Choruses and Vocal Ensembles
Boston Arts Academy Concert Choir (Beth Willer, conductor)
Boston City Singers
Coro Allegro (David Hodgkins, director)
First Church Boston Choir
Libella Quartet
Liber unUsualis
Longy Young Performers Chamber Chorus
Lorelei Ensemble (Beth Willer, director)
Norway Pond Festival Singers (Jody Hill Simpson, director)
Oratorio Chorale (Emily Isaacson, director)
PALS Children's Chorus [Voices Boston] (Jody Hill Simpson, director)
Roxbury Latin Glee Club (Rob Opdycke, director)
Tapestry
Words & Music
Piano
Donald Berman
Kate Boyd
Geoffrey Burleson
Winston Choi
Frank Corliss
Alison d'Amato
Judith Gordon
Laura Kennedy
Shiela Kibbe
John McDonald
Robert Merfeld
Linda Osborn
Sally Pinkas
Elizabeth Schumann
Lois Shapiro
Dolores Stevens
Thomas Stumpf
Janice Weber
Yehudi Wyner
Elise Yun
Percussion
Strings
Lynn Blakeslee, violin
Heidi Braun-Hill, violin
Gabriela Diaz, violin
Jennifer Elowitch, violin
Rohan Gregory, violin
Valeria Kuchment, violin (Boston Symphony Orchestra)
Julie Leven, violin
John Macfarlane, violin
Christina Day Martinson, violin
Sally Mermelstein, violin (Minnesota Orchestra)
Daniel Stepner, violin
Mirabai Weismehl, violin
Sarah Darling, viola
Kim Kashkashian, viola
Kurt Rohde, viola
Mark Smith, viola
Lisa Suslowicz, viola
Scott Wooweaver, viola
Sebastian Bäverstam, cello
Julia Bruskin, cello
Emmanuel Feldman, cello
Daire Fitzgerald, cello
Sarah Freiberg, cello
Joshua Gordon, cello
Thomas Kraines, cello
Ron Lowry, cello
Andrew Mark, cello
Rafael Popper-Keizer, cello
Rhonda Rider, cello
David Russell, cello
Brant Taylor, cello (Chicago Symphony Orchestra)
Elizabeth Remy, harp (Atlanta Symphony Orchestra)
Winds and Brass
Alicia DiDonato, flute
Peggy Friedland, flute
Nicole Pelonzi, flute
Julie Scolnik, flute
Fenwick Smith, flute (Boston Symphony Orchestra)
Jonathan Cohler, clarinet
Kenneth Radnofsky, saxophone
Philipp Stäudlin, saxophone
Eli Newberger, tuba
Mike Roylance, tuba (Boston Symphony Orchestra)
Gene Pokorny (Chicago Symphony Orchestra)
Orchestras
A Far Cry
Andover Chamber Players
Boston Bar Association Orchestra (Beverly Taylor, conductor)
Boston Classical Orchestra (Steven Lipsitt, conductor)
Bach, Beethoven, and Brahms Society (Steven Lipsitt, conductor)
The Cadenza Players (William Drury, conductor)
Longy SeptemberFest Chamber Orchestra (Jeffrey Rink, conductor)
Longy Chamber Orchestra
Longy Young Performers Chamber Orchestra (George Ogata, conductor)
Pro Arte Orchestra of Boston (Kevin Rhodes, director; David Angus, guest conductor)
Rivers Symphony Orchestra
Rivers School Conservatory Honors String Ensemble
Southwest Michigan Symphony Orchestra (Robin Fountain, conductor)
Waltham Philharmonic Orchestra (Michael Korn, conductor)
Wellesley Symphony Orchestra (Max Hobart, conductor)
String Quartets
Arden String Quartet
Arneis Quartet
Lydian String Quartet
Quartet X
Semiosis String Quartet
Piano Trios
The Claremont Trio
The Meiningen Trio
Triple Helix
Trio con Anima
Wind Quintets
Avalerion Winds
Vento Chiaro
Saxophone Quartets
Fresno State Saxophone Quartet
Radnofsky Quartet
Brass Quintets
Brass Menagerie
Commonwealth Brass
Triton Brass Quintet
Mixed Ensembles
Aurea Ensemble
Classical Jam
Florestan Recital Project
Freon Ensemble
Ibis Camerata
Mockingbird Trio
Sarasa Ensemble
Xanthos Ensemble