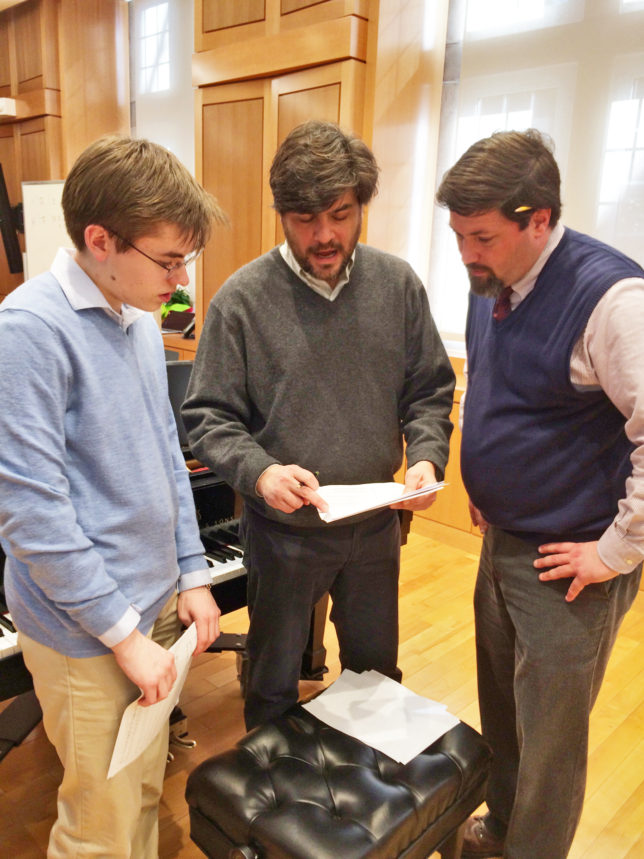 Howard Frazin has been a music educator for over 30 years, holding composition faculty positions at the New England Conservatory, the Longy School of Music, and Northeastern University, where he has taught composers in graduate, undergraduate, and preparatory programs. He teaches in both lesson and seminar settings, and has maintained a private composition studio in the Boston area since 1991.
His students have gone on to study at the Juilliard School, Eastman School of Music, New England Conservatory, Oberlin Conservatory, Yale School of Music, San Francisco Conservatory, Harvard University (composition graduate program), Shepherd School of Music, Bard College Conservatory of Music, Peabody Conservatory, Indiana University Jacobs School of Music, and Royal College of Music.
Mr. Frazin has given masterclasses throughout the country including appearances at Bard College Conservatory, Boston Conservatory, Columbia University, University of Miami Frost Music School, New England Conservatory of Music, Tufts University, Southern Methodist University, University of Texas at Dallas, Bowdoin College, California State University Fresno, as well as festival presentations at Yellow Barn, Song Source Festival, Rivers School Conservatory, California State University Summer Arts, and the Back Cove Contemporary Music Festival. He has been composer-in-residence for the Boston Classical Orchestra, which included outreach activities at Boston Arts Academy.
Mr. Frazin has been affiliated with Harvard's Project Zero research music group and during his 18-year tenure at the Longy School of Music restructured the Preparatory Studies solfège and theory program, and similarly reorganized the solfège curriculum and developed a teacher training program for the Suzuki School of Newton. He also founded and directed Longy's Prep School composition department. At Longy, in addition to teaching many undergraduate and graduate courses, he founded and taught the composition for performers class for graduate students, and at the New England Conservatory he founded and directed the Composer-Performer-Repertory (CPR) Ensemble. He is currently director of chamber music at Roxbury Latin School.
Contact for more information about studying with Howard Frazin.